Healthcare data and research partner
The company "Heliant" is certified for data mapping on OMOP CDM
The company "Heliant" is a SME (Small Medium Enterprise) certified by the European consortium EHDEN (European Health Data & Evidence Network) for mapping health data from various formats into the standardized format OMOP CDM (Observational Medical Outcomes Partnership Common Data Model).
EHDEN is a European consortium consisting of academic institutions and the pharmaceutical industry, and its objective is to create a European network of health data to be used for joint scientific and clinical studies.
The EHDEN network consists of:
– Data partners – healthcare facilities whose data are transformed into OMOP CDM format
– Certified enterprises (SMEs) – transform data into OMOP CDM format
The company "Heliant" is listed in the EHDEN catalogue as a certified ETL (extract, transform, load) service provider, during which data from Data Partners is taken, adjusted and loaded into a form that is ready for complex analyses.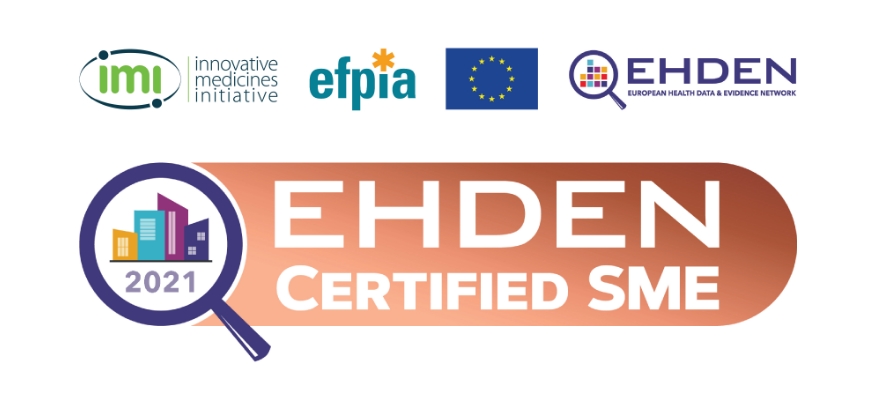 OHDSI tools (Observational Health Data Sciences and Informatics) are used in the ETL process for documenting data sets, creating ETL designs, mapping source codes, data quality assessment, verification and digital analysis. As part of the OHDSI community, the company "Heliant" actively participates in a large number of OHDSI working groups.
Participation in EHDEN projects enables data partners to manage and use health data smarter, the opportunity to exchange research methodology and actively participate in open science and cooperation with institutions and companies in Europe and worldwide.
Data partners that we cooperate with on EHDEN projects:

University
Clinical Centre of Serbia

Primorsko-Goranska County Community Health Centre

Clinical Hospital
Centre Zvezdara

Public Institution
of Hospital Travnik

University Clinical
Centre of Niš

Clinical Medical
Centre Osijek

Clinical Centre
of Montenegro

Sisters of
Charity Hospital